Curb Appeal Alert from Southern Living
By Zoe Gowen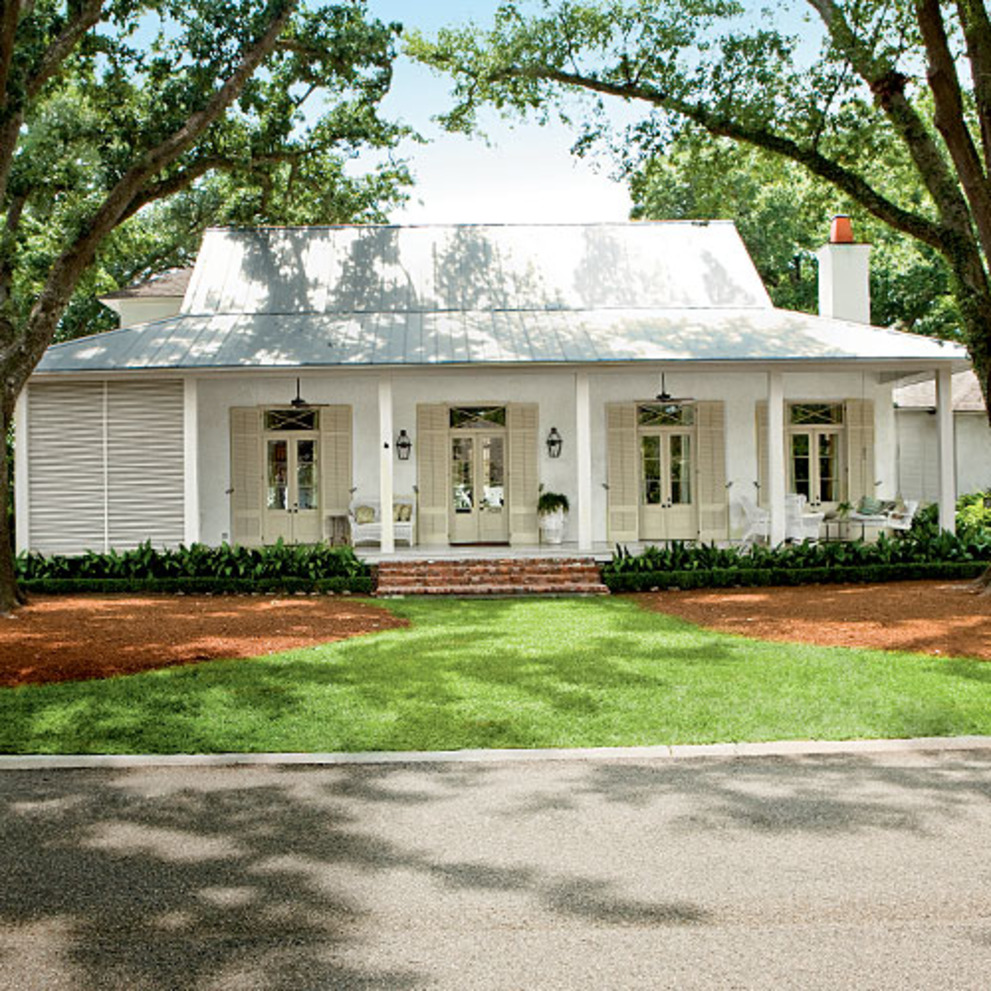 Residential Designer: Billie Brian
Spotted in: Baton Rouge, Louisiana
Year Built: 2004
Size: 4,900 square feet


Why We Love It
There's no question about the location of this Creole-French-style cottage. Its trademark only-in-Louisiana architecture first caught our eye, but we really fell for its modern simplicity and easy, breezy vibe. Built beneath a canopy of old oak trees, the gracious street-level porch tempts us to risk a trespassing charge for an afternoon spent rocking away our cares.


What Makes It Work 
Skipping the bold colors and intricate millwork commonly found in Acadian architecture for a tone-on-tone white palette and simple front columns gives this classic look a new, modern feel. A gray metal roof blends in with the paint scheme and keeps the facade light, while a low hedge of evergreen shrubs preserves the view.


The Wow Factor 
That endless front porch!  Nestled into the hipped roof's overhang and accented with louvered shutters on one end, this shady spot features all of our porching must-haves: an iconic hanging swing, white wicker furnishings, and a tranquil color scheme that doesn't distract from the lush Southern landscape.


Only In The South 
Four sets of French doors, each flanked with 10-foot louvered shutters, stand in for front windows and blur the line between indoors and out. Our temperate climate allows them to be left open nearly year-round, encouraging both air and guest circulation. With all eight doors thrown open, the porch becomes a natural extension of the front living areas when the homeowners are entertaining.


Get the Look
Metal Roof: Take a cue from farmhouse style. 5V Unpainted Galvalume, from $1.46/sq. ft.; lowes.comfor stores
Porch Fan: Guarantee summer breezes. Outdoor Original (22282) by Hunter Fan, $529; amazon.com 
Copper Gas Lantern: Add on some New Orleans flair. French Quarter, from $275; bevolo.com 
Louvered Shutters: Flank doors too! Recessed Stile and Rail, from $650/pair; southernshutter.com
Wicker Settee: Upgrade to timeless seating. Sahara Loveseat in White, $299; homedecorators.com 
July 15, 2014